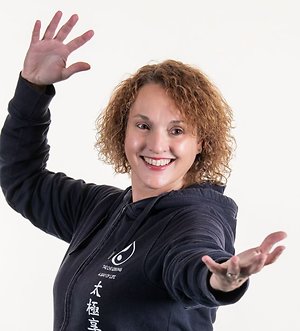 Tai Chi Qigong is an ancient Chinese holistic practice of slow, low impact movements that incorporate posture, breathing and focus to cultivate a smooth energy flow through the body.

It calms the mind, improves wellbeing and fitness. I think of it as a gentle moving meditation

As it is low impact it is suitable for all ages and abilities. It can also be effective if done in a seated position just gently moving the arms.

I deliver 18 beautiful movements to relaxing music with the aim to help you enjoy the session, have some time for yourself to calm the mind and allow the body to recharge and promote an overall sense of wellbeing.

QIGONG SESSIONS ON ZOOM
You can join a Qigong session from the comfort of your own home. I am currently offering the following sessions:
Tuesday 7.30pm
Wednesday 4.30pm

Please contact me for further details.

FACE TO FACE SESSIONS THAT I CURRENTLY RUN ARE:
Barton Seagrave Village Hall - Monday 1.30pm
Wilbarston Village Hall - Wednesday 1.30pm.

COVID precautions will apply and in summary these are:

Places are limited to 30 at Barton Seagrave and 20 at Wilbarston.
2m socially distancing where possible with 1m at a minimum.
Follow the one way system in place at the venues and keep 2m distance from others in confined spaces such as the entrance hallway and room entrance.
Sanitise hands upon entry and exit with the sanitiser provided.
Avoid touching your eyes, nose or face and clean your hands if you do.
Any tissues used should be disposed of in the bins provided and hands cleaned.
Please have the correct money available or contact me to do a bank transfer.
I will be taking names and contact numbers of all attendees.
External doors and windows will be open during the session.
Please bring your own mat if you wish to stand on one.
Chairs will be provided and will have been cleaned before and after the session.
Door handles and tables will also have been cleaned prior to your arrival at the session.

Please do not attend the session if you or anyone in your household has had COVID symptoms in the last 7 days. If you develop symptoms of COVID within 7 days of the session please notify me.

Please email me or call me on 07947191916 to reserve a space.

Please wear comfortable casual clothes and socks or light trainers / casual shoes. Please note that this is a relaxation class and not a high impact exercise class!

You can read an article on Qigong that was published in The Times in August 2018 here

For more information or to enquire about a taster session please contact me on 07947191916 or email me . I am happy to run taster sessions and give a short talk about Tai Chi Qigong at any social group or wellness event.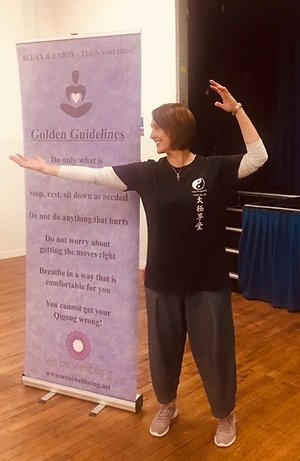 "It has been an absolute pleasure to attend the Qi-gong sessions hosted by Caroline over the last few weeks.
When arriving for the first time I was met by this kind and wonderful lady who made me feel immediately relaxed and part of the group. The way she spoke and demonstrated the movements was so relaxing and even though I had done nothing like this before I was soon transcended to a calm and tranquil place where I could be grounded and feel the energy running through my body. Even afterwards I felt so relaxed and content, thank you, Caroline, I look forward to attending many more of your classes." Darren, Market Harborough