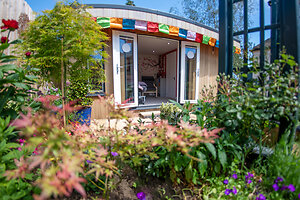 The Zen Den is now open
It has long been a dream of mine to have a purpose built space at home for my therapies.

Moving home in 2019 to Stoke Albany gave me the space to design and build a luxury, self contained garden room which has been aptly named the 'Zen Den' - a place for peace, relaxation and contemplation.

I love working from here, I have my electric heated couch, luxury soft furnishings and décor that creates a relaxing ambience and reflects See Be Wellbeing. It is so peaceful too with the wind in the trees and birdsong aiding the relaxation process.

There is plenty of parking on the driveway of the house and a separate side entrance for the Zen Den.

I offer all of my therapies from the Zen Den - Reflexology, Indian Head Massage, Reiki, Life coaching and one to one Tai Chi Qigong sessions.

The Zen Den provides a luxurious space for you to escape to and gift yourself with some time out.

I look forward to welcoming you soon.